Do they really work?
I have wondered that question to myself ever since I have seen all those commercials recently ran on television making claims such as "adding a four foot antenna to your phone" and getting signal inside tunnels and indoor areas. This page was created to show all of my fact findings on the internal antenna and its functionality with cellular phones. Hopefully, these tests can help you decipher if the internal antenna actually helps increase cell phone reception and signal strength. I have conducted many objective tests on my own with the internal antenna, as well as have other people in other geographic areas do the same. People are always looking for ways to increase their cell phone's signal strength, so volunteers were easy to find. This is due to the inconsideration of cellular providers that start building out and advertising their service before they are properly ramped up to handle their users with good cell phone reception. They are to blame, and we the consumer are stuck with finding alternate ways of improving and increasing the signal that should have been present at the time we signed our 1 year contracts!
I used several phones for my tests including the Nokia 8200, 6100, 8800 and the Nokia 3300 series phones. I have also had other volunteer testers using phones from Samsung, Ericsson, Motorola, Qualcomm and Audiovox to just name a few. Testers used phones working with both TDMA and CDMA digital technology, as well as the older Analog phones with providers such as Verizon and AT&T. The new popular GSM 900 phones (SIM Card technology) and PCS phones were also included in the tests.
Geographic areas covered by testers include: various states in the US from the East Coast, West Coast and the Midwestern states. I have also communicated with users from Greece, Germany, Mexico and Australia.
Preparation: I purchased the internal antenna from a few retailers at local stores and online on the Internet. I found that all of the internal antennas were identical, with the minor exception of a few which the device was the same, but with a little variation in the retail packaging. We (testers) also made logs of signal strength with various phones without the internal antenna signal boosters installed over a period of time and until a pattern of consistency was found. This is how we established the basis of our correlation and comparison tests.
TEST I - Internal Antenna in low signal indoor areas:
CONTROL ENVIRONMENT - Various indoor concrete buildings with no windows within 35 feet of the cellular phone unit. Criteria for these experimental locations include low or null signal without the internal antenna installed. Tests conducted for indoor functionality of the internal antenna spanned over a period of time of no less than a couple of months. The rationale for the time frame is because cellular sites of various service providers may be overloaded at different times of the day and different days of the week. The few months time frame also rules out the possibility of a cell site being down or under maintenance.
RESULTS - To our surprise, we found that the internal antenna helped most of the phones gain roughly one bar of signal strength. In certain cases where the concrete area was underground, the antenna did not noticeably increase the cellular phone's signal. In metropolitan areas such as Downtown Los Angeles, San Francisco and New York, the internal antenna not only increased the signal strength, but actually helped older analog phones reduce static to the point where the testers say they can carry on a conversation without having to repeat themselves to the other party. They reported that this was not possible before the internal antenna was installed. Consistency is the key factor in TEST I. There were times when certain cell sites were down, and lack of signal affected everyone with the same cellular carrier, regardless if they had the internal antenna installed or not.
CONCLUSION - The manufacturers of the internal antenna signal boosters claim that their product will help increase cell phone signal in tunnels and indoor areas. We find that to be true, although saying that "it is like adding a four foot antenna" may be a stretch. We also found that analog cellular phones also had a significant reduction in static (static and cross-talk is not a factor for digital wireless phones). To that, we can also validate their claim.
TEST II - Internal Antenna - graphical representation of test results:
TEST EQUIPMENT - For this, we consulted an Electrical Engineer from the University of Illinois. He basically tested the antenna for frequency strength and interference. He tested various cellular phones before and after the installation of the internal antenna. The test results were then averaged out over a period of time. Those results were then merged and averaged out between cellular phone models and different cellular providers. This would give a more general and unbiased conclusion on the effectiveness of the internal antenna.
RESULTS -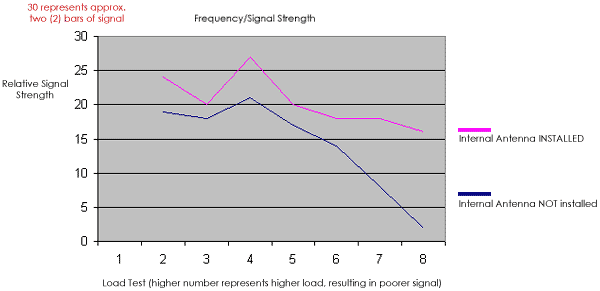 The results were then put into graphical representation for interpretation. The chart has been simplified and the jargon is put in layman's terms. But as you can see in the above graph, as the signal coverage of the provider grew weaker, the internal antenna helped sustain higher signal strength better as the load increased. The vertical field of the graph represents approximately the lower two (2) bars of signal strength on a cell phone. Our TEST I results seem to be pretty consistent with TEST II, as we have said that the internal antenna booster increased roughly one (1) bar of signal strength, although not in absolutely all areas.
SUMMARY
The ultimate question remains: Does the internal antenna signal booster actually work? Our conclusion from various testimonials and test results would say yes. But the exaggerated claims made by the manufacturers must be taken with a grain of salt. It did almost everything it said it would, just not to the degree that one would have expected if you were to go on their advertising alone.
After speaking with the Electrical Engineer, we figured that this device in concept would work, so we were not too surprised that we found positive results. By channeling stray waves to the cell phone's own antenna would actually help increase signal.
Is it worth buying and using? Let's just put it this way. After we have installed the internal antenna in our cell phones, we will not take it off anymore. We figure it is worth the money, particularly if you are in a low signal area a lot of the time and that little extra mile will make the difference between a bearable conversation and a completely dropped call.
Kansas City 1 Channel News and ABC WTVC News in Tennessee have both written articles that had similar findings to our own test cases.
However, there are some retailers out there trying to sell knock-offs of these products. I have personally seen them, and they either look different or use a different material when producing the Antenna. I personally stick by a motto when it comes to buying any product: "You get what you pay for and if it is suspiciously cheap in price, you'll probably get what you pay for."

** There are so many imitation Internal Antenna Boosters out there. I have seen some that are actually selling for under $5.00! To my surprise, many top listing websites are offering extremely low prices for these Internal Antennas that are the imitations. I have bought those before and they do not work at all. Because it can be hard to tell which ones are real over the Internet, it is a good idea to go with the trusted and tested sites I have compiled below. So make sure if you decide to purchase Internal Antenna, don't get the fake ones. **


LINKS
We have compiled a list of some reliable online retailers that carry the Internal Antenna (not the knock-offs).

The list is in Alphabetical Order.
Retailer
Price
Shipping Charge
Delivery Time
Promotions
$ 6.95
$ 1.99
2 - 4 days
Buy 2, get 1 FREE
also includes a free gift
$ 19.99
$ 5.99
4 - 6 weeks
none
$ 9.95
$ 4.00
4-7 days
none
contact the webmaster: techpro118@yahoo.com